The secret to a really successful design project is planning. The Green Envee Team are here to help and support you at every stage of your scheme. Whether you are making the most of our supply and install service, or whether you prefer to position and fix your artificial plants yourself, we work with you to ensure that the whole project runs as smoothly as possible.
Design
Not sure what you need? Our design partners are on hand to help you turn your ideas into a proper plan with measurements, quantities and specific artificial planting solutions.

More about design services from Green Envee
Checking measurements and quantities
Have a plan already? We'll help you double-check the calculations – there's nothing worse than finding yourself 3 plants short at the end of the project. This is particularly important for bespoke and/or unusual items where it is difficult to rectify mistakes made at the ordering stage.
Sourcing products
The Green Envee team is here to help you find the exact materials you need build your design. Our network of suppliers can create unusual or bespoke materials to lend originality and individuality to your project.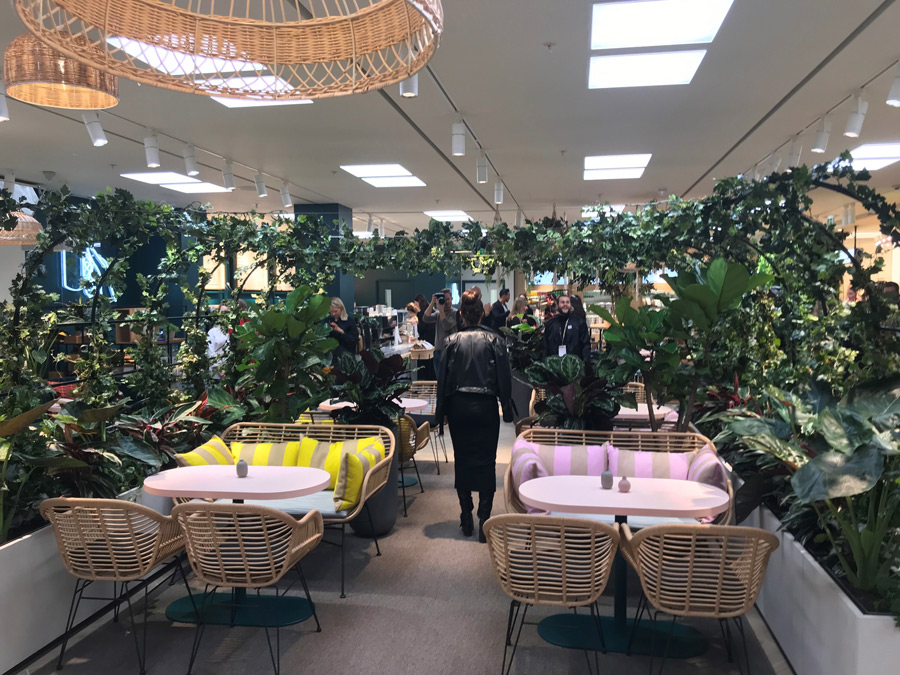 Pleat's Cafe within H&M's store in London. Green Envee collaborated with Scotscape to plan and create this beautiful space.
Logistics

Planning for products to arrive exactly when you need them is an artform in itself. Our experienced team will keep in touch with you throughout the project.

If you need specialised equipment for lifting, moving and installing your artificial planting solutions, we're here to help and advise
Planning for practical Help
Talk to the Green Envee team about planning to have the ideal skills sets on site when you need them. Our wide network of contacts include creative installers, electricians, carpenters, plumbers, landscapers and more. They are all here to help you achieve your goals.